Bone biomarker for the clinical assessment of osteoporosis: recent developments and future perspectives
Biomarker Research
2017
5:18
Received: 15 March 2017
Accepted: 2 May 2017
Published: 18 May 2017
Abstract
Bone biomarkers included formation, resorption and regulator are released during the bone remodeling processes. These bone biomarkers have attracted much attention in the clinical assessment of osteoporosis treatment in the past decade. Combination with the measurement of bone mineral density, the clinical applications of bone biomarkers have provided comprehensive information for diagnosis of osteoporosis. However, the analytical approaches of the bone biomarkers are still the challenge for further clinical trials. In this mini-review, we have introduced the functions of bone biomarkers and then recently developed techniques for bone biomarker measurements have been systematically integrated to discuss the possibility for osteoporosis assessment in the early stage.
Keywords
Bone biomarkerBone formationBone resorptionRegulatorsBone turnoverOsteoporosis
Background
Osteoporosis is a worldwide disease with reduction of bone mass and decrease of bone strength to result in bone fragility and fracture. Based on the report of World Health Organization (WHO), the disease of osteoporosis has been diagnosed by bone mineral density (BMD) at the hip and/or the spine at least 2.5 standard deviations below in comparison with the bone mass of young healthy adults as determined by dual-energy X-ray absorptiometry (DXA) [1]. The people with osteoporosis are steadily increased because of aging society occurring worldwide. There are about 200 million people are suffered from osteoporosis in the word and approximately 8.9 million fractures are caused by osteoporotic fracture [2]. In the osteoporotic fractures, hip fractures have led to mortality rates up to 20–24% within the first year and then the death rate has steadily increased for at least 5 years [3]. After hip fractures, the survivors may lose the capability of action and independence with 40% unable to walk independently and 60% requiring assistance at least 1 year. Due to the loss of capability, around 33% patients are totally dependent or in a nursing home in the year following a hip fracture. Nowadays, osteoporosis is a major concern of public health because of its healthcare cost. Moreover, the fracture caused by osteoporosis is the most important factor for the decreases of quality of life and survival rate in aging people.
Osteoporosis is a silent disease without obvious symptom and evidence until occurrence of fracture. Early diagnosis of osteoporosis is the key issue for efficient treatment and for identification of osteoporotic patient with high risk of fracture. At present, diagnosis of osteoporosis and assessment of fracture risk are based on the quantitative analysis of BMD by DXA. However, the gold standard method of BMD assessment of bone mass by DXA only partially provides the information about bone strength. The osteoporosis is characterized by bone fragility. Bone fragility is evaluated by its microarchitectural quality which is identified by all bone features such as microarchitecture, microdamage and remodeling rates with the influence of bone's ability for resistant fracture. The two-dimensional technique of DXA reveals the intrinsic limitations to discriminate cortical from cancellous bone and characterize changes because of bone geometry. Recently, several approaches have been developed to provide supplementary information for the assessment of fracture risks except BMD. For example, quantitative computed tomography (QCT) has been developed to evaluate bone loss [4, 5]. In QCT, the true value of mineral density for trabecular bone has been obtained from cortical portion of bone [6]. Moreover, the instrument of ultrasound has been applied to examine bone condition and fracture risk [7, 8]. The novel ultrasonic instrument is the first tool to characterize bone and assess microarchitecture with the detection of central axial reference sites (lumbar vertebrae and proximal femur) without the uses of ionizing radiations. However, these imaging techniques still have some limitations such as bulky device, high cost and limited accessibility to impede their applications for widespread uses and primary care inspection. Besides imaging techniques, the alternative method is still essential to be developed for the early and correct diagnosis of osteoporosis because the accurate diagnosis of osteoporosis in the early stage leads to a better management for the prevention and treatment.
The biomarkers of bone turnover have been investigated in the past decade. As shown in Fig.
1
, the mechanism of bone remodeling is composed by bone resorption and bone formation [
9
]. Bone biomarkers are produced from the bone remodeling process included bone formation biomarkers, bone resorption biomarkers and regulators of bone turnover. Detections of bone metabolism have been studied with the biomarkers of enzymes, proteins and by-products during the bone remodeling process [
10
–
13
]. Various biomarkers are now available for specific and sensitive assessment of the rate for bone formation and bone resorption as shown in Table
1
[
14
]. For example, the bone formation biomarkers are total alkaline phosphatase (ALP), bone-specific alkaline phosphatase (BALP), osteocalcin (OC), procollagen type 1 N-terminal propeptide (P1NP) and procollagen type 1 C-terminal propeptide (P1CP). The bone resorption biomarkers are hydroxyproline (HYP), hydroxylysine (HYL), deoxypyridinoline (DPD), pyridinoline (PYD), bone sialoprotein (BSP), osteopontin (OP), tartrate-resistant acid phosphatase 5b (TRAP 5b), carboxy-terminal crosslinked telopeptide of type 1 collagen (CTX-1), amino-terminal crosslinked telopeptide of type 1 collagen (NTX-1) and cathepsin K (CTSK). The regulators of bone turnover are receptor activator of NF-kB ligand (RANKL), osteoprotegerin (OPG), dickkopf-1 (DDK-1) and sclerostin. These biomarkers are useful to provide the early assessment of osteoporosis when the BMD measurement of DXA does not offer enough information to make the diagnosis. Therefore, the combination of BMD measurement by DXA and bone biomarker detections shows the great potential to improve the early assessment of people with the high risk of osteoporosis. Herein, we present the recent studies and breakthroughs in the detections of bone related biomarkers for the assessment of osteoporosis. We hope to provide a comprehensive mini-review starting from the functions of bone biomarkers included bone formation, bone resorption and regulator of bone turnover to the applications in osteoporotic assessment at the end.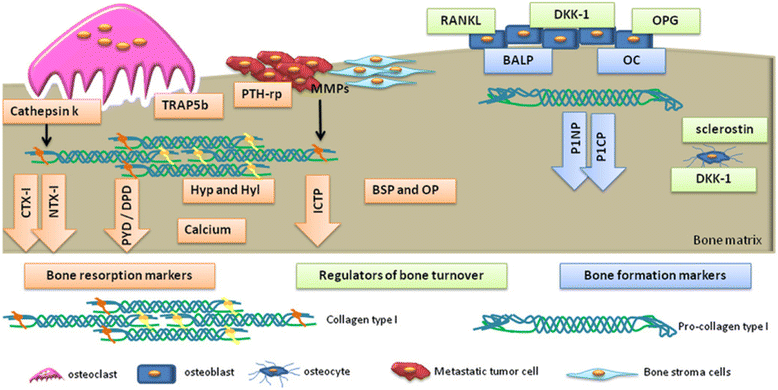 Table 1
Summary of detection techniques for bone biomarkers
| Biomarker | Method | Concentration | Reference |
| --- | --- | --- | --- |
| Total ALP | standard Technicon Auto-analyzer | 113 U/L | [12] |
| Total ALP | Roche COBAS Integra 800 | >129 U/L | [13] |
| Total ALP | Olympus AU 5200 analyzer | 64.8–79.7 U/L | [14] |
| BALP | enzyme immunoassay | 24.9–19.7 U/L | [24] |
| BALP | enzyme immunoassay | 66.4 ± 8.7 U/L | [25] |
| OC | antibody immunoassay | 4.1 ± 0.5 ng/mL | [27] |
| OC | ELISA | 16.16 ± 4.5 ng/mL | [28] |
| P1NP | Elecsys 2010 automated analyzer | 54.1 μg/L | [29] |
| P1CP | radioimmunoassay | 97–116 ng/mL | [32] |
| HYP | Bergman and Loxley method | 34.7 mg/g creatinine | [35] |
| GHYL | HPLC | 1.35 ± 0.82 mmol/mol | [39] |
| GHYL | HPLC | 1.93–6.07 μmol/L | [40] |
| DPD | HPLC | 11.3–22.3 nmol/L | [40] |
| DPD | chemiluminescence immunoassay | 4.7 nmol/L | [42] |
| DPD | enzyme immunoassay | 4.4 nmol/L | [42] |
| PYD | HPLC | 28.8 μmol/mol creatinine | [45] |
| BSP | radioimmunoassay | 12.1 ± 5.0 μg/L | [48] |
| BSP | radioimmunoassay | 8.0 μg/L | [49] |
| OP | ELISA | 20.75 ± 5.36 ng/mL | [51] |
| TRAP 5b | enzyme immunoassay | 4.0 U/L | [54] |
| TRAP 5b | enzyme immunoassay | 3.40 ± 0.87 U/L | [55] |
| CTX-1 | ELISA | 0.17–0.30 ng/ml | [56] |
| NTX-1 | ELISA | 37 ± 15 nmol BCE/mmol Cr | [57] |
| CTSK | ELISA | 10.17 pmol/L | [59] |
| RANKL | ELISA | 0.08 pmol/L | [61] |
| OPG | ELISA | 1.8 pmol/L | [61] |
| DDK-1 | ELISA | 34.3 pmol/L | [65] |
| Sclerostin | ELISA | 29.5 pmol/L | [65] |
Bone formation biomarkers
Bone Resorption biomarkers
Regulators of bone turnover
Receptor activator of NF-κB ligand (RANKL)
During the process of bone remodeling, osteoblasts produce RANKL and OPG to regulate the differentiation and maturation of osteoclasts. Recently, dextromethorphan has been demonstrated the inhibition of RANKL-induced osteoclastogenesis and bone resorption by abrogating the activation of NF-κB signaling in vitro. The oral administration of dextromethorphan improves ovariectomy-induced osteoporosis in vivo [63]. Serum levels of RANKL from humans have been observed for assessments of the states in metabolic bone diseases [64]. Although the serum RANKL has been studied for fracture risk prediction and evaluation of the response from osteoporosis treatment, many works still need to be investigated for the clinical application of RANKL.
Osteoprotegerin (OPG)
OPG is generally considered to be a secreted soluble receptor and is produced by many different tissues and cell types including osteoblasts. The role of OPG is used as a decoy receptor for RANKL and inhibitor of osteoclastogenesis [65]. Studies in mice have revealed that the OPG knockout mouse develops severe osteoporosis, whereas the overexpression of OPG in transgenic mouse models and OPG treatment of normal mice leads to osteopetrosis [66]. OPG can be measured in serum, plasma EDTA, citrate and heparin samples. There are commercially available sandwich ELISA assays for analyzing OPG by using a monoclonal capture and polyclonal detection antibodies [64]. However, the clinical use of serum OPG as a biomarker for evaluation of bone disease activity still needs additional demonstration.
Dickkopf-1 (DDK-1)
DKK-1 and sclerostin are the inhibitors of Wnt signaling and are applied as bone remodeling biomarkers. DKK-1 is produced by osteoblasts and is secreted into circulation. The serum levels of DDK-1 reflect the inhibition of bone formation [67]. DKK-1 levels have decreased from 34.3 pmol/L at baseline to 29.7 pmol/L at the 24-month of the breast cancer patients with anastrozole treatment [68]. DKK-1 has shown the correlation with the BMD of the femoral neck and of the total hip. Further long-term studies are necessary to identify the clinical application of the regulator DKK-1 as a biomarker for assessment of osteoporosis.
Sclerostin
In the presence of sclerostin, the Wnt pathway is downregulated and consequently osteoblastic differentiation is inhibited. Sclerostin is produced by osteocytes. Sclerostin is secreted into circulation, and serum levels reflect inhibition of bone formation [67]. In previous work, the concentrations of serum sclerostin have significantly increased from 29.5 pmol/L at baseline to 43.2 pmol/L after 24 months of treatment with anastrozole in breast cancer patients [68]. However, the clinical trial is further needed for the use of sclerostin as a biomarker of bone turnover.
Conclusions
In this mini-review, we reviewed several investigations and developments for the applications of bone biomarkers in the assessments of bone related diseases. From laboratory tests to clinical trials, the possibility of bone biomarkers to evaluate bone remodeling processes has been extensively demonstrated in physiological and pathological states. Bone biomarkers have shown great potential to serve as powerful indicators to evaluate the osteoporosis therapy and even to assist the clinical diagnosis of osteoporosis in the early stage. Among these bone biomarkers, P1NP has shown the great potential as a sensitive and stable bone biomarker for the early detection of osteoporosis.
Abbreviations
ALP:

Total alkaline phosphatase
BALP:

Bone-specific alkaline phosphatase
BMD:

Bone mineral density
BSP:

Bone sialoprotein
CTSK:

Cathepsin K
CTX-1:

Carboxy-terminal crosslinked telopeptide of type 1 collagen
DDK-1:

dickkopf-1
DPD:

Deoxypyridinoline
DXA:

Dual-energy X-ray absorptiometry
HYL:

Hydroxylysine
HYP:

Hydroxyproline
NTX-1:

Amino-terminal crosslinked telopeptide of type 1 collagen
OC:

Osteocalcin
OP:

Osteopontin
OPG:

Osteoprotegerin
P1CP:

Procollagen type 1 C-terminal propeptide
P1NP:

Procollagen type 1 N-terminal propeptide
PYD:

Pyridinoline
QCT:

Quantitative computed tomography
RANKL:

Receptor activator of NF-kB ligand
TRAP 5b:

Tartrate-resistant acid phosphatase 5b (TRAP 5b)
WHO:

World Health Organization
Declarations
Acknowledgements
We would like to thank the support from Taipei Medical University.
Funding
This work was supported by 105TMU-TMUH-09, TMU104-AE1-B28, MOST 105–2119-M-038-002 -MY2, MOST 103–2113-M-003-003-MY3, Taipei Medical University and Taipei Medical University Hospital.
Availability of data and materials
Not applicable.
Author's contributions
The present manuscript was drafted by TRK and revised by TRK and CHC. Both authors read and approved the final manuscript.
Competing interest
The authors declare that they have no competing interests.
Consent for publication
Not applicable.
Ethics approval and consent to participate
Not applicable.
Open AccessThis article is distributed under the terms of the Creative Commons Attribution 4.0 International License (http://creativecommons.org/licenses/by/4.0/), which permits unrestricted use, distribution, and reproduction in any medium, provided you give appropriate credit to the original author(s) and the source, provide a link to the Creative Commons license, and indicate if changes were made. The Creative Commons Public Domain Dedication waiver (http://creativecommons.org/publicdomain/zero/1.0/) applies to the data made available in this article, unless otherwise stated.
Authors' Affiliations
(1)
Graduate Institute of Nanomedicine and Medical Engineering, College of Biomedical Engineering, Taipei Medical University, Taipei, Taiwan
(2)
International Ph.D. Program in Biomedical Engineering, College of Biomedical Engineering, Taipei Medical University, Taipei, Taiwan
(3)
Bone and Joint Research Center, Department of Orthopedics and Traumatology, Taipei Medical University Hospital, Taipei, Taiwan
(4)
School of Medicine, College of Medicine, Taipei Medical University, Taipei, Taiwan