Beyond malignancy: the role of carbohydrate antigen 125 in heart failure
Biomarker Research
2013
1:25
Received: 11 July 2013
Accepted: 19 August 2013
Published: 30 August 2013
Abstract
Carbohydrate antigen 125 (CA-125), traditionally a tumor marker for screening, diagnosis, and monitoring in ovarian malignancy, had recently been shown increasing evidence and more extensively recognized/explored as a novel surrogate of heart failure (HF). The exact mechanisms underlying the pathophysiologic link between elevated serum CA-125 concentration and HF may be multi-factorial, with both mechanical and inflammatory process including numerous potential cytokines involved. Accumulating data had consistently indicated its diagnostic and prognostic role in HF patients in various clinical settings, however, there is limited clinical information regarding the incremental value or head-to-head comparison of such marker to other well-established HF markers. In this brief review, we aimed to discuss the biosynthesis, and potential insights of underlying pathophysiologies associated with CA-125 secretion in the scenarios of cardiac structural/functional alterations and HF, and further explored its current usage and roles in several recent reports.
Keywords
Brain Natriuretic PeptideMesothelial CellSystolic Pulmonary Artery PressureBrain Natriuretic Peptide LevelTricuspid Annular Plane Systolic Excursion
Brief introduction
Carbohydrate antigen 125 (CA-125), also known as MUC16, is a glycoprotein belonging to the mucin (MUC) family [
1
]. Humans CA-125, encoded by MUC16 gene, contains about 22,000 amino acids and is heavily glycosylated at the extracellular region (Figure
1
), which can be released from the cell surface by undergoing proteolytic cleavage and hence released into body fluid, including blood, pleural effusion, and ascites. CA-125 was first detected in ovarian cancer cell line. Subsequent studies showed that it is normally expressed on the surface of cells derived from coelomic epithelium, including pleura, epicardium, fallopian tubes, endometrium, and endocervix. With rich oligosaccharide chains, the physiological role of CA-125 is considered to protect the epithelial luminal surfaces from physical stress through hydration or lubrication process [
2
,
3
].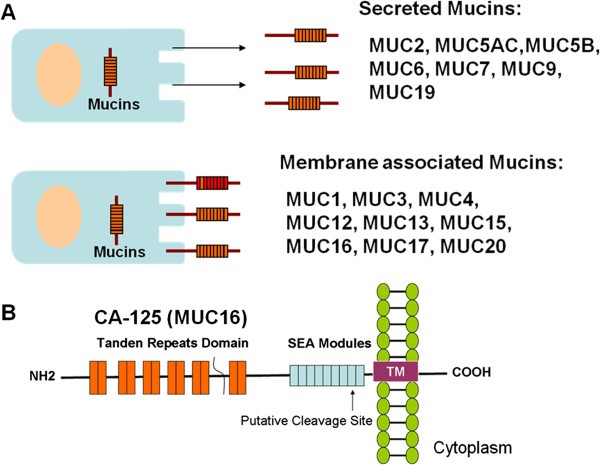 Conclusion
With better understanding of the underlying biological mechanisms and pathophysiological processes of heart failure in the recent era, biomarker as a surrogate in disease screening, diagnosis, or as a guide to effects of therapy or outcomes had broadened the utilization of these tools by physicians in clinical settings. The incremental clinical value by using multi-biomarker panel looking into potentially diverse pathways or biological signaling involved in a clinical disease entity are evolving. CA-125, the glycoprotein primarily used for ovarian cancer screening or therapeutic monitoring, is gaining more and more attention as another role in heart failure. Insights into the understanding of its role and mechanisms involved in heart failure had made it different from other biomarkers for the same purpose, though questions and issues regarding the real determinants for such glycoprotein release, short- and long-term monitoring for treatment, and the potential costs as a routine marker for heart failure may worth further investigation.
Authors' Affiliations
(1)
Departments of Internal Medicine and Medical Research, Mackay Memorial Hospital, Taipei, Taiwan
(2)
The Institute of Health Policy and Management, College of Public Health, National Taiwan University, Taipei, Taiwan
(3)
Department of Medicine, Mackay Medical College, New Taipei City, Taiwan
(4)
Department of Health Industry Management, Kainan University, Taoyuan, Taiwan
(5)
Mackay Junior College of Medicine, Nursing and Management, New Taipei City, Taiwan
Copyright
© Hung et al.; licensee BioMed Central Ltd. 2013
This article is published under license to BioMed Central Ltd. This is an Open Access article distributed under the terms of the Creative Commons Attribution License (http://creativecommons.org/licenses/by/2.0), which permits unrestricted use, distribution, and reproduction in any medium, provided the original work is properly cited.