Molecular signatures of chronic myeloid leukemia stem cells
Biomarker Research
2013
1:21
Received: 18 February 2013
Accepted: 3 June 2013
Published: 6 June 2013
Abstract
BCR-ABL tyrosine kinase inhibitors (TKIs) are effective in controlling Philadelphia-positive (Ph+) chronic myeloid leukemia (CML) are unlikely to cure the disease because TKIs are unable to eradicate leukemia stem cells (LSCs) responsible for the disease relapse even after tyrosine kinase inhibition. In addition, the TKI resistance of LSCs is not associated with the BCR-ABL kinase domain mutations. These observations indicate that TKI-insensitive LSCs and TKI-sensitive leukemic progenitor cells are biologically different, which leads us to believe that LSCs and more differentiated leukemic cells have different genetic mechanisms. Further study of LSCs to identify the novel gene signatures and mechanisms that control the function and molecular phenotype of LSCs is critical. In this mini-review, we will discuss our current understanding of the biology of LSCs and novel genes that could serve as a molecular signature of LSCs in CML. These novel genes could also serve as potential targets for eradicating LSCs in CML.
Keywords
BCR-ABLLeukemic stem cellsCMLBiomarkerHematopoietic stem cellsCancer stem cells
Introduction
Human Philadelphia chromosome-positive (Ph+) leukemia induced by the BCR-ABL oncogene is the most common myeloproliferative disorder known as chronic myeloid leukemia (CML). CML often starts with a chronic phase, which is characterized by granulocytosis and splenomegaly. The disease can progress to acute leukemia. CML starts with a chronic phase and progresses to a more acute terminal phase called "blast crisis" resulting in development of acute myeloid or acute B-lymphoid leukemia, which is characterized by granulocytosis and splenomegaly. More than ten years ago, a BCR-ABL kinase inhibitor called imatinib mesylate (Gleevec/Glivec, formerly STI571; Novartis) was approved by FDA for treating CML patients [1, 2]. The rate of complete cytogenetic response among patients receiving imatinib was 87% after 5 years of treatment [3]. Although it effectively inhibits the BCR-ABL kinase activity and improves the survival of CML patients, imatinib does not appear to lead to a cure of the disease, because patients in complete cytogenetic remission after imatinib treatment still contain BCR-ABL-expressing leukemia cells. One explanation is that survival of those primitive CML cells were not dependent on BCR-ABL kinase activity so that therapies that biochemically target BCR-ABL could not eliminate CML stem cells [4, 5]. Those CML patients will most likely be required to take the drug for the rest of their lives [6]. The resistance of LSCs to kinase inhibitors suggests that BCR-ABL may activate some unique and unknown molecular signaling pathways through both kinase-dependent and kinase-independent mechanisms in LSCs [7].
BCR-ABL-expressing hematopoietic stem cells function as LSCs of CML and are resistant to BCR-ABL kinase inhibitors
Cancer stem cells (CSCs), including LSCs in CML, constitute a subpopulation of malignant cells capable of self-renewal and differentiation [8–12]. Recently, CSCs have been defined by their ability to repeatedly generate a continuously growing tumor [13]. Weissman and colleagues proposed that a candidate CSC population should exhibit the following properties: 1) The unique ability to engraft; 2) The ability to replicate the tumor of origin both morphologically and immunophenotypically in xenografts; and 3) The ability to be serially transplanted [13].
CML occurs because of clonal expansion of BCR-ABL-expressing hematopoietic stem cells. In CML patients, a BCR-ABL containing leukemic clone typically produces the myeloid lineage cells and B-lymphoid cells. LSCs in CML have some characteristics of normal hematopoietic stem cells. The BCR-ABL retroviral bone marrow transduction/transplantation mouse model has been widely used to establish a more efficient CML mouse model for studying the biology of LSCs [14]. By using the CML mouse model, BCR-ABL-expressing Lin-c-Kit+Sca-1+ cells were shown to function as LSCs in chronic phase CML [15].
BCR-ABL kinase inhibitors: imatinib, dasatinib and nilotinib were developed to treat CML and imatinib now serves as the frontline therapy for the patients with chronic phase CML [16]. Even though it can control CML development effectively, imatinib does not appear to cure the disease. One possible reason is that LSCs are insensitive to kinase inhibitors. Imatinib kills almost all dividing cells; however, a significant population of viable CD34+ cells are unaffected by the treatment and are leukemic in nature [5]. The fact that imatinib could not target the quiescent BCR-ABL-expressing LSCs made it apparent that imatinib treatment alone could not cure CML [5, 17]. Human CML stem cells do not depend on BCR-ABL kinase activity for survival and are thus not eliminated by imatinib therapy. Imatinib inhibited BCR-ABL kinase activity to the same degree in all stem (CD34+CD38-, CD133+) and progenitor (CD34+CD38+) cells and in quiescent and cycling progenitors from newly diagnosed CML patients. Although short-term in vitro imatinib treatment reduced the expansion of CML stem/progenitors, cytokine support permitted growth and survival in the absence of BCR-ABL kinase activity that was comparable to that of normal stem/progenitor counterparts. Primitive human CML cells are insensitive to imatinib treatment and therapies that biochemically target BCR-ABL kinase activity will not eliminate CML stem cells [18]. The minimal effect of BCR-ABL kinase inhibitor on LSCs was also observed in the CML mouse model [15]. Neither imatinib nor dasatinib show a complete eradication of BCR-ABL-expressing HSCs.
Identification of novel gene signatures of LSCs in CML
Recently, several novel gene signatures in LSCs are identified to monitor the function and activity of LSCs after CML patients receive BCR-ABL kinase inhibitors treatment or other novel therapies (Table
1
and Figure
1
).
Table 1
List of novel gene signatures in LSCs
| Gene name | Chr | Gene function |
| --- | --- | --- |
| β-catenin | Chr3 | Cadherin-associated protein |
| Smo | Chr7 | Smoothened, frizzled family receptor |
| Alox5 | Chr10 | Arachidonate 5-lipoxygenase |
| Scd1 | Chr19 | Stearoly-coenzyne A desaturase 1 |
| Src kinase | Chr20 | Kinase |
| Selp | Chr1 | Granule membrane protein 140 kDa, antigen CD62 |
| CD44 | Chr11 | Antigen |
| Msr1 | Chr8 | Macrophage scavenger receptor 1 |
| Foxo3a | Chr6 | Forkhead box O3 |
| Hif1α | Chr14 | Hypoxia inducible factor 1 |
| Pten | Chr10 | Prosphatase and tensin homolog |
| Bcl6 | Chr3 | B cell leukemia/lymkemia 6 |
| PML | Chr15 | Promyelocytic leukemia |
| PP2A | Chr19 | Protein phosphatase 2A |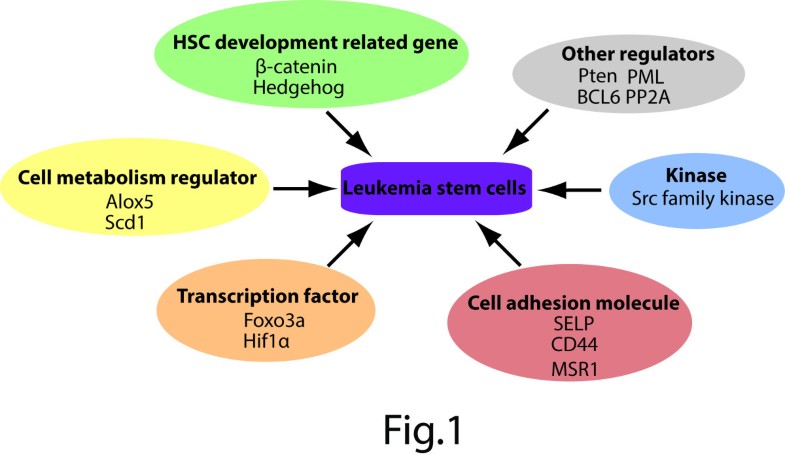 Summary
Although our current knowledge of the biology and therapy of CML LSCs is still limited, the identification of novel gene signatures, such as HSC development related genes, cell metabolism regulators, kinases, cell adhesion molecules and transcription factors (Table 1), provide the new opportunities for not only monitoring the proliferation of CML stem cells, but also developing promising anti-stem cell therapies for curing CML. Future clinical trials for testing those gene signatures in CML patients will determine whether novel BCR-ABL kinase inhibitors or other combinational therapies are effective in killing CML stem cells and curing the patients.
Authors' Affiliations
(1)
Department of Oncology, Novartis Institutes for Biomedical Research, Cambridge, USA
(2)
Department of Medicine, Division of Hematology/Oncology, University of Massachusetts Medical School, Worcester, USA
(3)
Department of Medicine, University of Massachusetts Medical School, Worcester, USA
Copyright
© Chen and Li; licensee BioMed Central Ltd. 2013
This article is published under license to BioMed Central Ltd. This is an Open Access article distributed under the terms of the Creative Commons Attribution License (http://creativecommons.org/licenses/by/2.0), which permits unrestricted use, distribution, and reproduction in any medium, provided the original work is properly cited.