Selenium-binding protein 1 as a tumor suppressor and a prognostic indicator of clinical outcome
Biomarker Research
2013
1:15
Received: 15 December 2012
Accepted: 2 February 2013
Published: 1 March 2013
Abstract
Selenium is a trace element that plays a critical role in physiological processes and cancer prevention, whose functions may be through its effects on selenium-containing proteins. Selenium-binding protein 1 (SBP1) is a member of an unusual class of selenium-containing proteins that may function as a tumor suppressor in multiple cancer types and whose levels have been shown to be lower in cancers as compared to corresponding normal tissues. This review is intended to summarize recent advances in gaining an understanding of the significance of SBP1 in carcinogenesis, and suggest that SBP1 could be developed as a potential biomarker for cancer progression and prognosis.
Keywords
SeleniumSelenium-binding protein 1Glutathione peroxidase 1CancerBiomarker
Introduction
Selenium is an essential trace element whose consumption has significant impact on a wide variety of health outcomes. For example, Keshan disease, a congestive cardiomyopathy, is associated with low concentrations of selenium in the soil in the geographical area of Keshan County in China [1]. Higher intake of selenium is associated with a reduced incidence or severity of a wide range of human disorders, including muscle and cardiovascular disease, cancer, endocrine dysfunction and neurological disorders [2]. In particular, geographic, animal and human epidemiological studies, have shown that lower concentrations of selenium in serum is associated with increased risk of cancer and that selenium supplementation may, in some cases, reduce the risk of several cancer types, including those of the esophagus, colon, prostate and liver [3]. The mechanisms of cancer prevention remain unknown but might be linked to enhancement of anti-oxidant defenses, increasing the immune response and being anti-inflammatory.
Selenium is a constituent of proteins of several classes. Selenium-containing proteins generally fall into three categories [4, 5]. One of these classes includes those proteins containing selenomethionine in which selenium, due to its structural similarity to sulfur, incorporates non-specifically into the sulfur-containing amino acid [6]. The most common and best studied class of selenium-containing proteins includes those that contain the amino acid selenocysteine (Sec). Throughout evolution, from bacteria to humans, Sec is incorporated co-translationally by its insertion in response to UGA codons that otherwise would serve at translational termination signals. In eukaryotes, the recognition of UGA as Sec requires a regulatory sequence, called a SECIS element, in the 3'-untranslated region of the selenoprotein mRNA [7]. All in-frame UGA codons contained in a SECIS-including mRNA are recognized as encoding Sec, which is incorporated into the elongating peptide by a unique translational machinery that includes a highly unusual tRNA, an elongation factor as well as other proteins required for selenoprotein synthesis [2, 8]. There are 25 human Sec-containing selenoprotein genes and 24 in the mouse [5]. The best studied Sec-containing protein is the ubiquitously expressed glutathione peroxidase-1 (GPx1). This enzyme uses reducing equivalents from glutathione to detoxify lipid and hydrogen peroxides and its levels are sensitive to selenium availability. Changes in the levels of GPx1 have been associated with a variety of human diseases. The loss of one GPx1 allele has been frequently observed during the development of several common cancer types, including those of the breast, lung and colon as well as those of the head and neck [9]. An additional class of selenium-binding proteins includes those proteins in which selenium is bound to the peptide, but not incorporated into an amino acid as Sec. One such protein is the selenium-binding protein 1 (SBP1) [10].
Conclusion
SBP1 is expressed in normal tissues, but its levels are reduced in multiple types of cancer. Reduced levels of SBP1 likely result from both epigenetic and posttranscriptional alterations. SBP1 is inversely regulated and interacts with GPx1, and these effects might be mediated, at least in part, by selenium. Clinically, the reduced expression SBP1 is linked to poor survival of cancer patients (Figure
1
). Therefore, SBP1 SBP1 expression may be developed as an indicator for the monitoring of carcinogenesis and progression, as well as a biomarker for the prediction of cancer risk and clinical prognosis.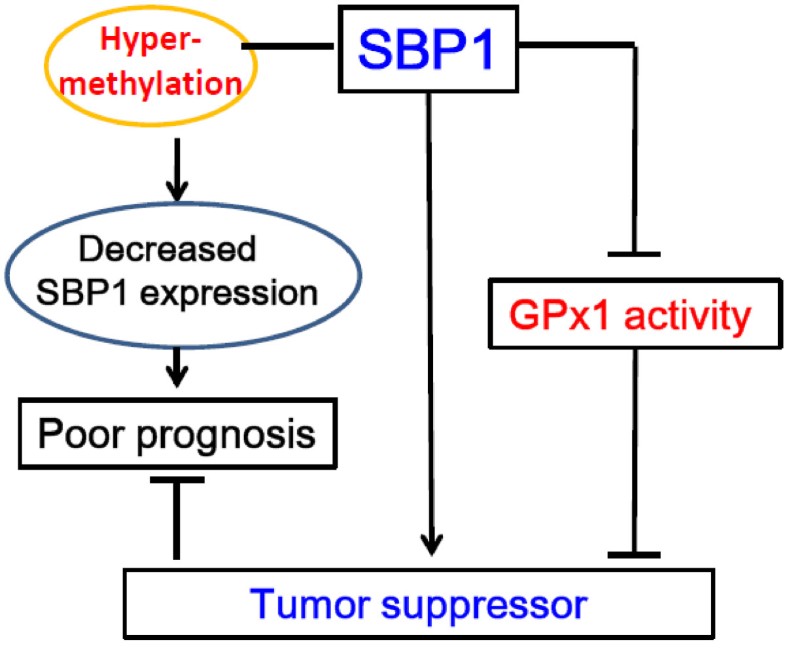 Abbreviations
SBP1:

Selenium-binding protein 1
GPx1:

Glutathione peroxidase 1
BE:

Barrett's esophagus
Declarations
Acknowledgements
We would like to thank Dr. Wenfeng Fang (Sun Yat-Sen University Cancer Institute, Guangzhou, China), Dr. Tina Li (University of California, Davis, CA), Dr. Nicole Pohl (University of Illinois at Chicago, Chicago, IL) and Dr. Xiuli Bi (Liaoning University, Shenyang, China) for their contribution to this work. This work is sponsored in part by the grant from the Nature Science Foundation of China (grant # 81272251 and 91229115 to W. Yang) , the startup fund from Xinxiang Medical University (to W .Yang), China and by a grant from the National Institutes of Health (Grant # RO1CA127943 to A.M. Diamond).
Authors' Affiliations
(1)
Department of Pathology, School of Basic Medical Sciences, Xinxiang Medical University, Xinxiang, China
(2)
Department of Pathology, University of Illinois at Chicago, Chicago, USA
Copyright
© Yang and Diamond; licensee BioMed Central Ltd. 2013
This article is published under license to BioMed Central Ltd. This is an Open Access article distributed under the terms of the Creative Commons Attribution License (http://creativecommons.org/licenses/by/2.0), which permits unrestricted use, distribution, and reproduction in any medium, provided the original work is properly cited.